TSC
TSC TDP225w
The TSC TDP-225W Wristband was developed specifically to meet the needs of printing wristbands for healthcare patient ID and entertainment wristband ticketing applications. Unlike any other direct thermal sold, the TDP-225W Wristband features a small footprint that supports full 6.5" outer diameter rolls of wristbands right out of the box. The easy-to-use design provide an easy-load spring loaded center biased wristband holder that supports 1" core that is common to full 6.5" outer diameter rolls sold by major wristband manufacturers. Other outstanding features include an LCD display to provide printer status, USB 2.0 and Ethernet connectivity.

TSC TDP244
The TSC TTP-244 is based on the best selling TTP-244 platform, features such as legendary Dual-Motor design, and industrial standard media capacity. With its small, compact footprint, it is perfect for a variety of label and tag printing applications. The TTP-244 can print a wide variety of labels ranging from low volume shipping labels to compliance and general purpose product identification labels and tags.

TSC TDP245
The TSC TTP-245 series desktop thermal transfer printer offers speeds of up to 5 ips with 203 dpi resolution. Standard memory is 2 MB of operating DRAM and 2 MB of addressable FLASH with an option for up to 8 MB of additional FLASH memory. The TTP-245 series features serial, parallel and USB communication ports standard, and offers an optional internal Ethernet LAN interface for networked installations.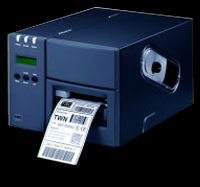 TSC TDP246m
The TSC TTP-246M series thermal transfer barcode printers has a small footprint and low profile to fit where larger industrial printers do not. With an all-metal construction, it is durable enough to withstand tough production environments. While priced for value, the TTP-246M series offers two models loaded with powerful set of standard features including metal cover, 2MB DRAM, 2 MB FLASH memory and a multi-language back-lit LCD display. Inexpensive options include a low-cost cutter, internal Ethernet card, and an easy to install auto-peeler module. The TTP-246M is truly the leader in offering your customers value and performance.